Helpful Cigar Smoking Tips: lighting a cigar
In my experience, though it is not as convenient and can sometimes be quite difficult if it's windy outside, I suggest always using matches to light your cigar. Most other seasoned cigar smokers out there agree with me on this issue. Often times when you use a lighter, the fluid from the lighter will affect the taste a small amount for the duration of your smoke. It's nothing that will make a great cigar become a bad cigar, but if you're like me in that you want the best possible experience with your cigar, than I suggest using matches.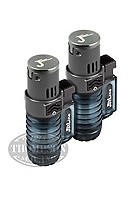 That being said, butane fuel cigar lighters will have much less affect on the taste of your cigar than liquid fuel lighters. Thompson Cigar sells a variety of butane lighters, such as the Jetline Super Torch Lighter 2-fer or the Zippo Blu2 Brass Torch that are excellent at cutting down the "lighter fluid" taste that you may get out of a liquid fuel lighter like a Bic or a classic Zippo.
Also, if you're going to use a lighter, do your best to not let the flame touch the cigar directly, but rather let the cigar absorb the heat of the fire while you inhale through it.
If the cigar ever burns in a lopsided fashion whilst you smoke, I suggest you hold the cigar where you can see it (not in your mouth) and slowly heat the side that needs to catch up to the other. Smoking cigars is something that involves a lot of technique, and every little thing, while individually not super important, adds up and can make the difference in a good smoking experience and an excellent smoking experience.