The Hemingway Short Story by Arturo Fuente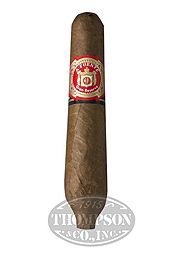 "About the same time as we introduced the Hemingway Classic and Masterpiece (1988), my father wanted to develop something totally different, unseen in cigars. So we started fooling around with a very short cigar, which was only for our own personal use. That cigar became the Short Story." -Carlos Fuente, Jr.
The Arturo Fuente Hemingway Short Story became one of the most coveted sizes in the Hemingway series, the line dedicated to "The Old Man and the Sea" himself, Ernest Hemingway. The mild-medium bodied Dominican cigar is perfectly constructed with a golden Cameroon wrapper every palate is sure to enjoy. And the stubby and  look is enough to attract anyone's eye to it. This is no ordinary cigar. But it has become one of the most popular A-Fuente cigars available, especially among all of the smokers here at Thompson Cigar.
The Short Story is a 4 1/2″ interpretation of the Perfecto shape. With a Cigar Aficionado rating of 91, this brilliant smoke is sure to be a big hit! Don't miss your chance to enjoy this unequaled smoking experience! Supplies are extremely limited.